Your Special Day
While you have been dreaming about your wedding day we, at Harborside International Golf Center, have been preparing to make your dream an unforgettable reality. Harborside's 24,000 sq. ft. Frank Lloyd Wright prairie-style clubhouse uniquely blends elegance and intimacy for you and up to 230 of your closest family and friends.
Harborside is located minutes south of Chicago's Loop creating an easy commute for you and your guests. Upon entering Harborside International you will drive through our welcoming gates onto a private drive bordering our 2 beautiful, Dick Nugent designed, Championship golf courses.
Upon your arrival you will be escorted through the vaulted lobby which features beautiful 50 foot ceilings which precede your reception and Ballroom. Once here you'll be greeted to breathtaking panoramic views of the golf course as well as Lake Calumet. The views alone will carry you out on our outdoor terrace. There, surrounded by the serenity of Lake Calumet and the drama of the Chicago skyline, you will greet your guests and enjoy a lavish cocktail reception.
Harborside's dedicated staff is there to please your every need. Our expertise will transform your vision into a day of perfect moments and lasting memories. Pick from bountiful and creatively displayed chef specialties, action stations and/or hors d'oeurves, which are not only enticing to the eye but pleasing to the palate – compliments of our talented chef who insists on serving only the finest meats, cheeses and seasonal produce.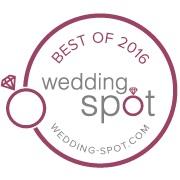 Accompanied by the incredible views, you will be led by our professional staff into the Ballroom. Once formal introductions have concluded, Champagne has been poured, and toasts have been offered, our gifted chef will regale you with an exceptional four-course dinner inspired by you and executed by him and his talented staff. Our Catering Sales Manager will be the presence that guides you through a seamless and beautiful affair. Let us work together to create an event that is unique and memorable and most importantly reflects your style and our expertise.
Harborside International would love the opportunity to host the most unforgettable day of your life.
If interested, please contact Catering Sales Manager Carolyn Mangrum at For information about weddings, call(312) 782-7837, ext. 237, or CMangrum@kempersports.com.
For more information please fill out the wedding inquiry form below.