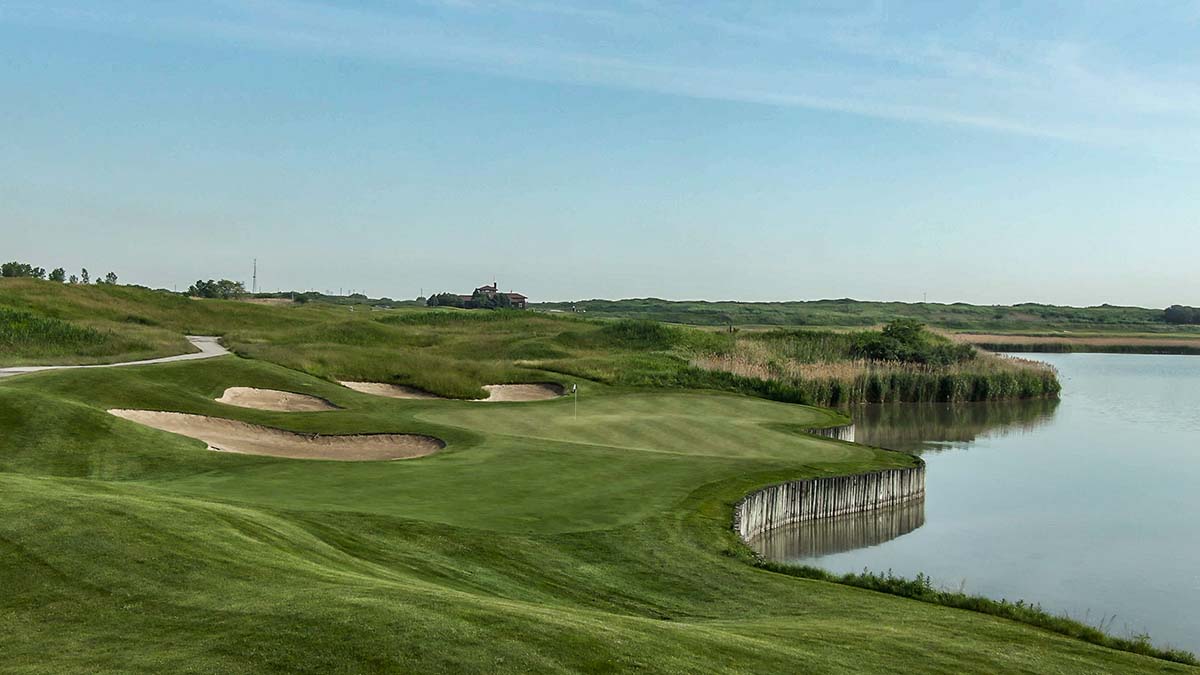 Golfweek's Best Courses You Can Play 2023 – Public Access (Illinois #10)
In 1996, Harborside International was immediately transformed from a Chicago favorite to one of the top public golf facilities in the country with the addition of the Starboard Course. While providing a similar links golf experience to it's sister Port Course, the Starboard Course stands alone as a unique blend of exciting and challenging links holes.
Starboard's fantastic finish is highlighted by its signature par 3 #17 "Buccaneers Cove." A middle iron is needed to carry Lake Calumet, which looms from tee to green and up the right side to a devilishly angled green. Three deep bunkers on the left offer no bailout option and add even more drama to this memorable hole typical of the Starboard Course.
Golfweek, GolfNow and Golf Digest regularly rank the Starboard Course as one of the best public courses you can play in the state of Illinois.
| Hole | 1 | 2 | 3 | 4 | 5 | 6 | 7 | 8 | 9 | Out |
| --- | --- | --- | --- | --- | --- | --- | --- | --- | --- | --- |
| Tournament | 554 | 398 | 330 | 156 | 521 | 442 | 387 | 209 | 466 | 3463 |
| Championship | 523 | 380 | 303 | 134 | 491 | 416 | 351 | 179 | 441 | 3218 |
| Regular | 470 | 333 | 283 | 93 | 451 | 379 | 320 | 146 | 395 | 2870 |
| Forward | 430 | 295 | 224 | 69 | 398 | 343 | 278 | 116 | 343 | 2496 |
| Par | 5 | 4 | 4 | 3 | 5 | 4 | 4 | 3 | 4 | 36 |
| Handicap | 1 | 9 | 13 | 17 | 5 | 7 | 11 | 15 | 3 | |
| Hole | 10 | 11 | 12 | 13 | 14 | 15 | 16 | 17 | 18 | In | Tot |
| --- | --- | --- | --- | --- | --- | --- | --- | --- | --- | --- | --- |
| Tournament | 416 | 411 | 560 | 225 | 474 | 364 | 425 | 174 | 592 | 3641 | 7104 |
| Championship | 394 | 388 | 548 | 181 | 462 | 332 | 400 | 138 | 559 | 3402 | 6620 |
| Regular | 347 | 345 | 510 | 142 | 411 | 308 | 365 | 114 | 502 | 3044 | 5914 |
| Forward | 299 | 305 | 424 | 114 | 334 | 265 | 316 | 85 | 472 | 2614 | 5110 |
| Par | 4 | 4 | 5 | 3 | 4 | 4 | 4 | 3 | 5 | 36 | 72 |
| Handicap | 10 | 12 | 2 | 16 | 8 | 14 | 4 | 18 | 6 | | |